The number of people regularly logging on to Meta's "Threads" (rival to Twitter) has plunged 81%
Around eight million log on to Threads daily compared with 44 million at its peak

Threads was the fastest-growing app ever after its July launch, but has struggled to keep momentum and lags way behind Twitter's 100 million daily users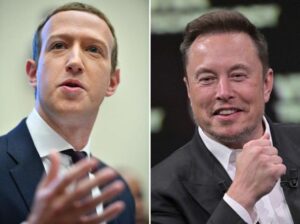 Daily users of Threads, the 'Twitter killer' app launched by Meta, have tanked since its record-breaking launch on July 5 – from a peak of 44 million to just eight million.
The time people are spending on the app has also fallen sharply, according to an analysis by Sensor Tower and Similarweb.
The app initially drew 100 million users in its first five days – the fastest growth of any app in history. Users opened the app 14 times per day after its initial launch and spent an average of 19 minutes on it.
Today, the average time users spend on Threads has fallen to 2.9 minutes per day and they're only opening it between two and three times.
The latest figures continue a downward trend in the app's use and will be a concern for Zuckerberg, the ninth richest person in the world with a $114 billion fortune, who hoped to capitalize on the ongoing turmoil at Twitter.
Twitter – which has more than 100 million daily active users – is currently being rebranded as X by billionaire rival Elon Musk, the world's richest man with a $236.1 billion fortune, according to Forbes.
Twitter threatened to launch a lawsuit against Meta over claims it hired Musk's former employees who 'had and continue to have access to Twitter's trade secrets and other highly confidential information'.
The billionaires' rivalry now runs so deep they are even planning to have a physical fight to settle their differences.
Zuckerberg, 39, addressed the decline in Threads users in mid-July when separate figures also revealed it hadn't maintained its initial popularity. He said he remained 'optimistic' about the future of Threads and that the figures were still 'way ahead of what we expected'.
'The focus for the rest of the year is improving the basics and retention,' Zuckerberg said in a post to Threads.