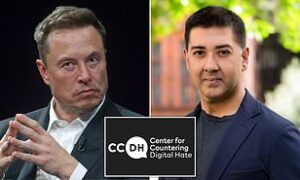 Lawyers for Twitter's parent company said the CCDH has 'embarked on a scare campaign to drive away advertisers from the platform'
A lawsuit said the CCDH 'unlawfully accessed data' from X and presented it 'out of context… to make it appear as if X is overwhelmed by harmful content'
X Corp took issue with a recent study by the nonprofit which claimed Twitter 'fails to act on 99 percent of Twitter Blue accounts tweeting hate'
Twitter's parent company X. Corp has sued the Center for Countering Digital Hate alleging it 'embarked on a scare campaign to drive away advertisers from the platform.'
Lawyers for Elon Musk's company claimed the nonprofit, which counters online hate speech, gained data from the platform 'unlawfully' then used it 'out of context… to make it appear as if X is overwhelmed by harmful content.'
A New York Times article in May also said advertising had tumbled 59 percent and Twitter staffers feared advertisers were 'spooked' by changes at the platform.
The study by the CCDH uncovered 100 tweets from subscribers to Twitter Blue's service that 'clearly violate the platform's policies against hateful conduct'.
Tweets highlighted in the report included racism, antisemitism, praise for Adolf Hitler and the suggestion LGBT campaigners should be shot.
The study alleged that four days after it reported the tweets, only one had been removed and that all of the accounts remained active.
X claimed the study was a 'cursory review of random tweets', provided 'no methodology' and 'no explanation as to why the 100 chosen tweets represent an appropriate sample of the nearly 500 million tweets sent per day from which to generalize about the platform's content moderation practices'.
The letter further alleged that the CCDH was 'supported by funding from X Corp.'s commercial competitors, as well as government entities and their affiliates'.
The CCDH said it does not 'accept any funding from tech companies, governments or their affiliates'.
Its response said it is 'fully prepared to defend itself' if X Corp. brings legal action.